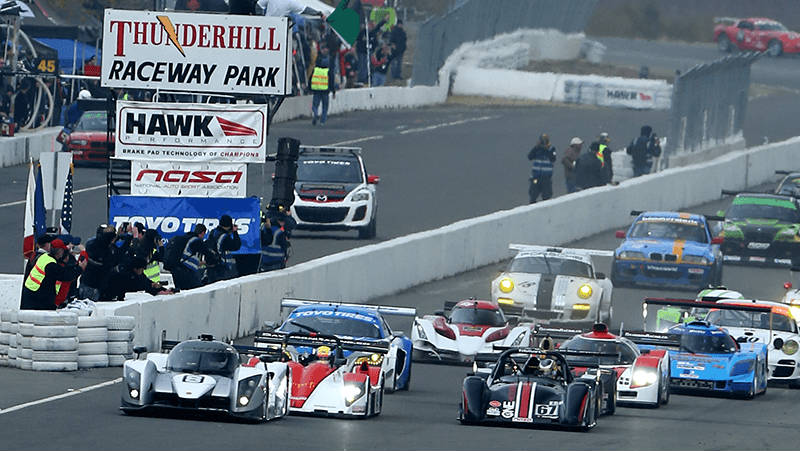 I'm very proud of this news today! This partnership has been underway for the better part of 2016 and we finally get to break the news that RaceHero is now the exclusive live timing and results app for all 150 annual events organized by the National Auto Sport Association (NASA). For racers, officials & spectators, RaceHero is the app for live timing & results!
NASA previously used a patchwork of familiar systems to keep everyone up to date: event schedule PDFs sent by email, printed entry lists at registration, live timing on race monitor and paper results taped to the side of a trailer. RaceHero consolidates all of those functions into one automated, co-branded service that creates a better experience for their members and racers.
Read on for the full release:
---
NASA SELECTS RACEHERO AS EXCLUSIVE LIVE TIMING & RESULTS SERVICE
Napa Valley, CA: The National Auto Sport Association (NASA) has selected RaceHero as the exclusive provider for live timing and race results for all 15 NASA regions and NASA Championship races. RaceHero provides a "weekend in your pocket" experience featuring real-time entry lists, schedules, live timing and race results. Racers can now track over 150 annual NASA events using RaceHero on phones, tablets and desktop computers making their NASA experience easier to manage during the weekend activities.
It's not a race without results and there are no results without timing and scoring. What once was tracked with a stopwatch is today completely orchestrated by computers. RaceHero allows us to provide an automated live stream from our existing timing systems to anyone in the world on any device, enabling us to grow our reach with no additional cost or effort. It also simplifies the process of posting results and getting information out to competitors and fans alike.
"NASA Timing and scoring operators are typically volunteers working under tight schedules" said Roman Vaisman, NASA Chief Technology Officer. "Just like the racecars on track, speed and accuracy are critical for our Timing and Scoring staff. RaceHero automatically publishes accurate provisional results and lets us easily distribute official results with penalties and corrections without adding more work for our staff."
"While we can't do everything in-house, we look for partnerships where we aren't just directing our members to a third-party", said NASA Director of Business Development Jeremy Croiset. "We embed RaceHero's live timing and results in our websites where we can drive traffic, promote our sponsors and provide value to our members through the latest and greatest technology. Software entrepreneur and racer Brian Ghidinelli created RaceHero based on his passion for endurance sports car racing which is a core event offering from NASA and we're thrilled to be working with him on this new program."
About NASA: The National Auto Sport Association (NASA) was formed in 1991 with the premise of delivering high-quality motorsports events to enthusiasts at major racing venues throughout the nation. NASA has created programs that allow owners of both racecars and high-performance street-driven vehicles to enjoy the full performance capabilities of their cars in a controlled professionally managed environment. NASA offers many different programs that will allow you to enjoy motorsports on a number of different levels, including our High Performance Driving Events (HPDE), Rally Sport, Time Trial, NASA-X and Competition Racing programs.  For more information, log onto www.nasaproracing.com and connect with the community at Facebook, Twitter and Google+.
About RaceHero: RaceHero brings everything about race day to your pocket in a fun, social way. By looking beyond simple finishing position, RaceHero highlights big passes, personal bests and epic battles. Access entry lists, schedules, live timing and results from smartphones, tablets and laptops all driven automatically from existing timing and scoring systems. RaceHero is free to event organizers, promoters and racetracks and is available today at http://RaceHero.io and on Apple iTunes and Google Play.
View a sample race result from NASA's recent race at Mazda Raceway Laguna Seca